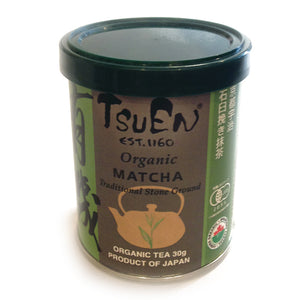 Premium Organic Matcha Powder 30g 特上有機抹茶粉
Regular price
$31.99
$0.00
Unit price
per
オーギャニック抹茶(プリーミアム)
The most famous and oldest type of tea in Japan. Well known for its use in tea ceremony. A shaded tea, tencha is dried, and later stone milled into matcha. It takes 1 hour to create 30g or 1 oz of matcha. This tea can also be whisked in ice cold water or milk.
Water temp: Boiling.
Steep time: Whisk immediately.
抹茶跟其他綠茶分別最大,是因為抺茶是由碾茶茶葉研磨而成。碾茶是經過覆蓋遮光栽培後,不經搓揉直接乾燥而成,利用石臼將碾茶研磨成粉就成為抺茶。抹茶的風味及口感都跟其他綠茶不同,苦澀中充滿甘甜,因此擁有不少忠實抹茶粉絲。
---